Brass Producers – Fabricantes de Latón – Messing Hersteller– Fabbricanti di Ottone – Fabricants de Laiton



ISO 9001:2015 CERTIFICATION
 
We are proud to inform that FILTO PROFILES has its ISO 9001 certificate renewed by TÜV Rheinland,
and upgraded to ISO 9001:2015 standard to continue ensuring the best quality and service worldwide
in the scope of the Manufacture and sale of brass profiles. 

The ISO certification confirms that the Quality Management System of FILTO PROFILES meets the
high requirements of the ISO standard.

The corporate headquarters and the operational infrastructure have been tested according to the
requirements of ISO 9001:2015.

You can download our ISO 9001:2015 certificate valid from 2018-04-26 until 2021-04-25:
 
​
Your reliable partner in brass better than ever!

 
---
Any design in brass. Standard shapes available.

Filto Profiles is world's leading supplier of brass profiles required for many different applications.

Offering unrivalled choice of quality, value and competitive prices from daily raw materials quotation; 
This is why thousands of customers across the world rely on Filto Profiles.
Expertise and Support. International Export.

Filto meets the needs of worldwide customers, with a quick response and efficiency. 

Filto Profiles helps customers save time and money by producing and suppling on time to keep their facilities up and running.

DELIVERY ALL AROUND THE WORLD 
FILTO PROFILES has agreements with most of the major transport companies to succeed supplying all continents. 

Place your order NOW of any design and receive it anywhere in the world. 
Send your inquiries...
Contact us with your requirements and our engineers
will give you the best solution, delivery time and price.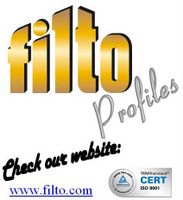 ​
Filto Profiles SALES TEAM
Tel. +34 93 683 42 56     Fax. +34 93 683 38 06
E-mail. filto@filto.com
 
Polígon Industrial Can Prunera, Carrer Solsonès 14
08759 Vallirana (Barcelona) –Spain
​
---
​
---
If you wish to unsubscribe from this mailing list, please send email to: administracio@filto.com
Before printing this email, assess if it is really needed.
The information in this e-mail, and in any attachments, is confidential and, if any, protected by a professional privilege, and intended solely for the attention and use of the named addressee(s). You are hereby notified that any dissemination, copy or distribution of this information is prohibited without the prior written consent.
If you have received this communication in error, please notify the sender by reply e-mail and delete it.